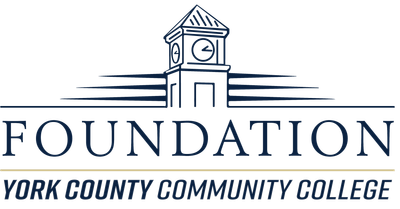 On behalf of the York County Community College Foundation Board of Directors, we express our deep gratitude for your invaluable support of YCCC's mission to deliver industry-aligned educational programs, paving the way for students to secure rewarding careers and catalyze their socioeconomic advancement.
With your generous backing, we are actively shaping a brighter future for our community in the following ways:
Igniting Student Success:
At YCCC, we firmly believe in education as a transformative power. By supporting us, you directly fuel the educational journeys of our students, empowering them to acquire relevant industry skills and obtain rewarding careers. Your contribution ignites our commitment to provide a world-class education, equipping students with the necessary knowledge and proficiencies to excel in today's competitive job market.
Creating Industry-Aligned Programs for Success:
In the fast-paced, evolving job market, we understand the critical importance of industry alignment for student success. That's why YCCC continuously strives to develop programs that address the needs of local businesses, ensuring our graduates are prepared to excel from day one. Your support allows us to create these industry-relevant programs, bridging the skills gap, stimulating economic growth, and nurturing a talented and adaptable workforce for our community.
Empowering Socioeconomic Mobility:
Your support transcends individual success; it cultivates socioeconomic mobility for students and their families. Through quality education and access to outstanding programs, YCCC equips individuals to overcome the constraints of limited opportunities and forge a path to a promising future. By investing in their journey, you are contributing to a vibrant community where every member has the chance to thrive.
Driving Economic Prosperity:
Your support serves as a powerful catalyst for economic prosperity within our county. By fostering a skilled and educated workforce, we enable businesses to flourish, attract investments, and nurture a thriving economy. By supporting YCCC, you play an integral part in instigating a positive cycle of growth and prosperity that enhances the lives of all community members.
Thank you for becoming a beacon of positive change. Whether through event participation, sponsorship, or philanthropy, your support makes a palpable difference in the lives of students and shapes the future trajectory of our county.
On behalf of the Foundation Board and the entire YCCC community, we thank you for your unwavering support.
Sincerely,

Michael Fischer, President
York County Community College Foundation is a 501(c)(3) public charity. All donations are tax- deductible to the fullest extent of the law. Federal identification number: 22-3451600.